Opinion
Biden Visits 'Potemkin Village' Version of El Paso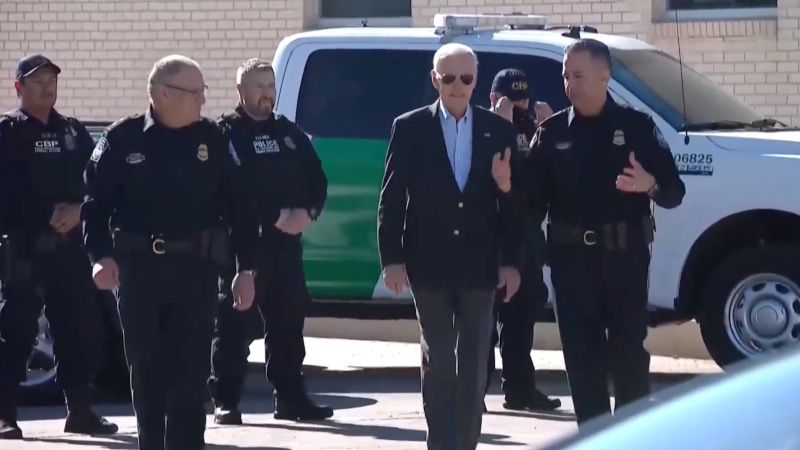 For the first time since at least 2008, Joe Biden visited the Southwest border on Sunday. The only problem is that it was apparently a "Potemkin village" version of the border, with Biden visiting El Paso only after the city had been largely cleared of migrants. It's very different from how a predecessor in the Oval Office, Dwight D. Eisenhower, handled a similar situation.
The Courtier and the Empress. The phrase "Potemkin Village" refers to a (possibly apocryphal) scheme implemented by Prince Grigory Potemkin — field marshal, favorite, and possibly lover of Russian Empress Catherine II ("the Great").
The Russian Empire annexed Crimea in 1784, and Catherine thereafter put Potemkin in charge of building a Black Sea fleet. With the empress planning a trip to the newly annexed region, according to the legend, the field marshal ordered the erection of villages "consisting of nothing more than gaily painted façades to be erected all along her route".
True or not, "Potemkin village" has come into common parlance to describe efforts to put a false front on an otherwise grim situation.
El Paso. And things along the border in El Paso are grim, indeed. In just the first two months (October and November) of FY 2023, agents in El Paso sector have already apprehended more than 106,500 illegal entrants — nearly double the total for all of FY 2020 (fewer than 54,400), and nearly as many apprehensions there as in FY 2014 to FY 2018 combined (fewer than 110,000).
El Paso is the largest city on the Southwest border (population: 687,222), but even it is struggling to handle the flood of migrants that DHS has unleashed on its streets.
Back in September I reported that El Paso was so overwhelmed with border releases that it had started its own bus service to New York City to move those migrants along.
More recently (in mid-December), the city announced a state of emergency in response to the border rush, with plans to house up to 10,000 released migrants once CDC orders directing the expulsion of illegal entrants, issued pursuant to Title 42 of the U.S. Code in response to the Covid-19 pandemic, expire (which will happen at a date currently TBD).
Biden's Visit. While I'm not privy to the conversations that transpired between the president and the local officials in that liberal border enclave, multiple outlets are reporting that the El Paso that Biden visited is a sanitized version of the actual chaotic scene there.
Even CNN, an objectively Biden-friendly outlet, described the president's drop-in as a "tightly controlled visit", explaining that after standing "for several minutes along the iron fence separating the US and Mexico as he spoke with officers in green uniforms", Biden then went to "a migrant processing center, where he did not appear to meet with any migrants".
The outlet reports (somewhat incredulously):
Asked to explain the thinking behind having Biden visit this specific center and ultimately not meeting or interacting with any migrants there, a senior administration official told CNN, "There just weren't any at the center when he arrived. Completely coincidental. They haven't had any today."
Pre-Visit "Clean Up". Part of the reason why — "completely coincidentally" — there were no migrants at that center may have been because things in El Paso had been cleaned up ahead of time.
According to the New York Post on January 7 — the day before the president's visit — "Authorities in El Paso have been tearing down migrant encampments under cover of darkness and dispatching hundreds of migrants across the border to Mexico ahead of" the president's visit.
The paper reported that encampments in the downtown area had been dismantled, busloads of Venezuelan migrants had been spotted heading south, and rumors were rampant that Border Patrol would deport migrants who were spotted on the streets. As the National Border Patrol Council (the union for agents) bitingly tweeted on January 6:
Abbott's Letter. One encounter that Biden could not be shielded from was with Texas Governor Greg Abbott (R), a fierce critic of Biden's feckless border policies and a guy who has a virtual all-access pass to major events in the Lone Star State.
Abbott "made a surprise visit to El Paso to deliver a note to President Joe Biden as he stepped off Air Force One".
In that missive, the governor complained that the president's visit was "$20 billion too little and two years too late", and argued that Biden's trip "avoids the sites where mass illegal immigration occurs and sidesteps the thousands of angry Texas property owners whose lives have been destroyed by" the administration's border policies.
Abbott's letter wasn't a simple airing of grievances, however. The governor also offered Biden some helpful tips on steps he could take to ameliorate the situation at the border, including complying with congressional detention mandates for illegal entrants, reimplementing the Migrant Protection Protocols (better known as "Remain in Mexico"), "aggressively" prosecuting illegal migrants, and resuming border barrier construction.
I have explained many times before that Biden's failure to take such actions are the reason why there is a humanitarian and national-security disaster at the Southwest border to begin with, so Abbott and I (at least) are on the same page.
Congressional Inquiry? Finally, as both the CNN and New York Post reporting suggested, Abbott asserted that El Paso had "been sanitized of the migrant camps which had overrun" the city's downtown because the administration "wants to shield" the president "from the chaos that Texans experience on a daily basis".
The newly empowered Republican conference in the House of Representatives may want to get to the bottom of what exactly occurred in the hours and days leading to the president's visit to El Paso.
Potemkin villages are not simply a "bad look" resulting from an inartful attempt to fabricate a "good look", but in official contexts they can border on fraud. I am not saying that any fraud occurred, but operations outside of official channels in advance of official visits raise some legitimate questions.
In any event, this is all a bad look for President Biden. One of then-candidate Dwight Eisenhower's key campaign promises in the 1952 election was to "go to Korea", where tens of thousands of U.S. troops had been engaged in a hard-fought "police action" against the North Korean and Chinese governments.
Twenty-five days after he won the presidency, Eisenhower made good on that promise, and pictures of the erstwhile five-star general in a winter hat and parka, eating rations in freezing weather with common soldiers, have become iconic.
Ike was the consummate leader, and leaders share the hardships of those they have placed in harm's way, and experience both the good and the bad. That appears to be the opposite of what Biden did in during his Potemkin village visit to El Paso.
This article was originally published by the Center for Immigration Studies.
---
Visit BorderHawk.news