News
Border Agents Rescue 140 Illegals Stranded on Island in Rio Grande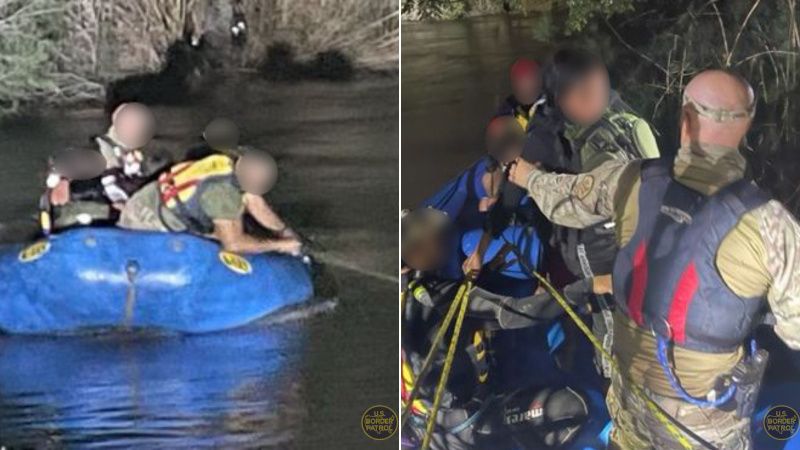 More than 100 illegal aliens were rescued from an island in the Rio Grande after they were left there by smugglers this week, according to reports.
The harrowing incident unfolded at around 3 p.m. on Monday near Eagle Pass, Texas.
Border agents located a massive group of illegal migrants who were trapped on the island on the U.S. side of the river.
"Del Rio Agents and Eagle Pass Fire Dept rescued 140 migrants abandoned by smugglers from an island in the Rio Grande River," Border Patrol Chief Raul Ortiz reported on social media.
"The teams took over 20 trips to safely rescue the migrants as water levels rose."
The migrants are citizens of countries across the globe.
"The group consisted of one Cuban, four Nicaraguans, 66 Colombians, six Dominicans, 32 Peruvians, eight Ecuadorians, seven Hondurans, five Venezuelans, seven from China, and four from Sri Lanka," Customs and Border Protection (CBP) explained in a statement.
"An extensive breakdown of the group revealed there were 45 single males, 25 single females, 64 family units, and six unaccompanied children."
None of the migrants required medical attention and all were taken to a CBP processing center.
Drownings and water rescues on the Rio Grande have become regular occurrences during the Biden border crisis.
Border Patrol agents just began placing hundreds of bilingual locator signs along the river as part of the "Rescue Water Placard Initiative" launched in three counties in the Rio Grande Valley.
This article was originally published by InfoWars.com
---
Visit BorderHawk.news