News
Mexico Bus Crash Leaves 18 Migrants Dead, Dozens Injured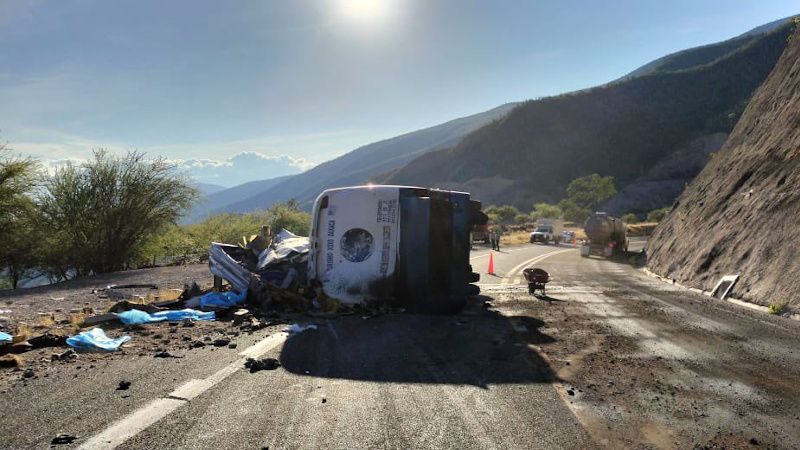 A bus carrying more than 50 U.S.-bound migrants crashed in Mexico this week, leaving at least 18 dead and dozens more injured, according to reports.
The fatal wreck unfolded early on Friday morning in the southern state of Oaxaca.
A coach bus traveling the Oaxaca-Cuacnopalan highway reportedly lost control on a bend and overturned.
Oaxacan authorities shared photos from the crash site along with preliminary details.
"The Coordinación Estatal de Protección Civil intervened and provided assistance in the event of a road accident that occurred at kilometer 88 of the Oaxaca-Cuacnopalan highway, where a bus with 55 migrants, most of them Venezuelan nationals, overturned," the State Coordination of Civil Protection explained on social media.
Among the dead were three children, authorities say.
While most of the passengers were reportedly from Venezuela, there were Haitian migrants aboard, as well.
Migrants frequently perish or suffer serious injuries in crashes as they make their way to the U.S. through Mexico and Central America.
In August, 16 people died and 36 were wounded in another bus crash on a highway in Oaxaca.
Days earlier, 17 people were killed when a bus transporting U.S.-bound migrants plunged into a ravine in the Mexican state of Nayarit.
Six of the deceased were identified as citizens of India while another was from Mauritania.
In February, at least 39 people died when a bus carrying more than 60 migrants flew off a cliff in Panama.
---
This article was originally published by InfoWars.com
---
Please consider donating to support our work.
Visit BorderHawk.news