Europe
Migrants Housed on Luxury Cruise Ship in Netherlands Gloating on TikTok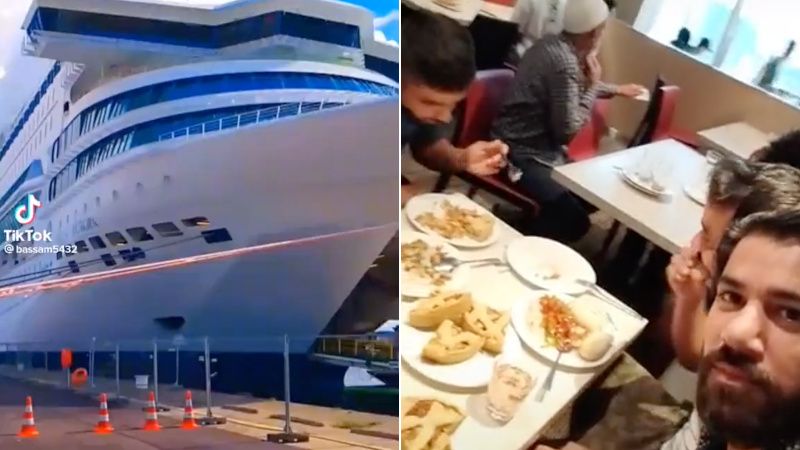 Outrage is building in the Netherlands as 'asylum seekers' living on a luxurious cruise ship are gloating about their new digs on social media, according to reports.
The municipality of Velsen has begun moving up to 1,000 migrants onto the Silja Europa, a cruise ferry now being used as an asylum shelter.
Velsen Mayor Frank Dales posted about the arrival of the initial busload of migrants at port last week.
"The 1st bus has just arrived. Refugees from Syria and Yemen. They stayed outside in tents in Budel and Ter Apel," Dales wrote on September 26.
"How good that they are now being taken care of in Velsen. We contribute to solving the national reception crisis. That's how we do it here. I am proud of Velsen!"
In the following days, videos of mostly-male migrants enjoying hot buffets and deluxe accommodations began circulating on TikTok and were reposted on other social media platforms.
Many of those videos have been aggregated in a single thread on Twitter.
Prominent Dutch politician Geert Wilders has shared some of the videos, slamming the government for lavishing foreigners on the taxpayer dime as Dutch citizens struggle to make ends meet.
"Meanwhile, fortune hunters are advertising our super-deluxe luxury five-star shelters on cruise ships on tiktok," Wilders wrote.
"This government policy is insane, insane and sick. Our people get a crumb, strangers get everything."
"Everything is free for asylum seekers. Nice hot food, heating, care. All for nothing on luxury cruise ships," he continued in another post.
"While our own people cannot pay their energy bills and many elderly people are in diapers due to a lack of healthcare staff."
Wilders explained how the 'asylum shopping' scam often works.
"The asylum profiteers shamelessly show on TikTok how they cheat. By car, bus and plane through four, five safe countries and then fly to Holland to seek asylum here and parasitize in the 5 star cruise ships with our money," he wrote on Sunday.
It is unclear how long migrants will stay on the ship, but the Dutch asylum system is reportedly overwhelmed and authorities are scrambling to provide housing for at least 11,000 migrants at this time.
This article was originally published by Infowars Europe.
---
Visit BorderHawk.news