News
Shock Photo: Volunteers Cleaning Trash at Border Stumble Upon Dead Migrant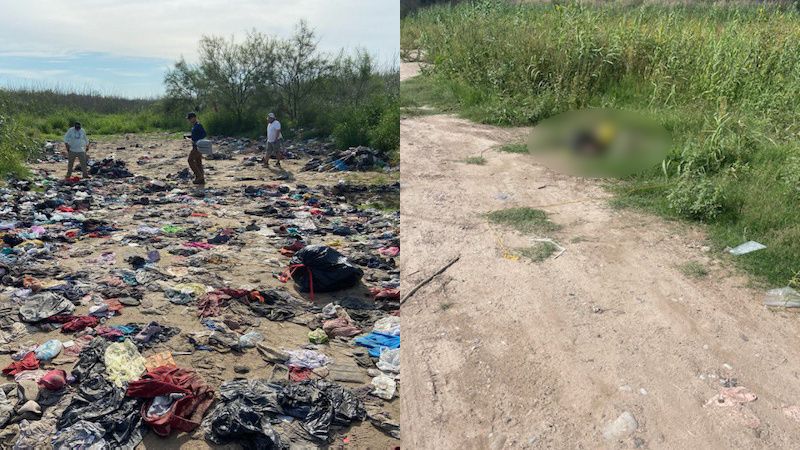 Volunteers working to clean up trash in South Texas recently discovered the body of a dead migrant, according to reports.
Millions of illegal aliens have crossed the U.S.-Mexico border under the Biden regime, causing widespread devastation to natural habitats in the region.
Migrants often ditch garbage, apparel, and personal belongings as they make their way into the U.S.
"There is a massive amount of clothing & trash discarded by migrants at popular crossing areas here in Eagle Pass, including on private property/ranches," Fox News correspondent Bill Melugin reported on Wednesday.
"[Blue Line Moving] and his volunteers help clean it up. They recently came across a deceased migrant."
Melugin shared shocking photos of refuse as well as dead body lying along a dirt road.
WARNING: DISTURBING CONTENT
Eagle Pass, located in Maverick County, is experiencing some of the highest illegal migration traffic along the southwest border, as well as an explosion of migrant deaths.
"There are so many bodies being recovered that the morticians are asking for assistance. I had never seen so many drownings like we're seeing right now," Eagle Pass Fire Department Chief Manuel Mello III told Fox News this week.
"We do a body recovery daily. It's very traumatic for my personnel."
Chief Mello says Maverick County is on pace for at least 300 body recoveries this year.
This article was originally published by Newswars.com.
---
Visit BorderHawk.news