News
Shock Video: Border Patrol Agents Fight Smugglers on SoCal Beach as Crowd in Mexico Cheers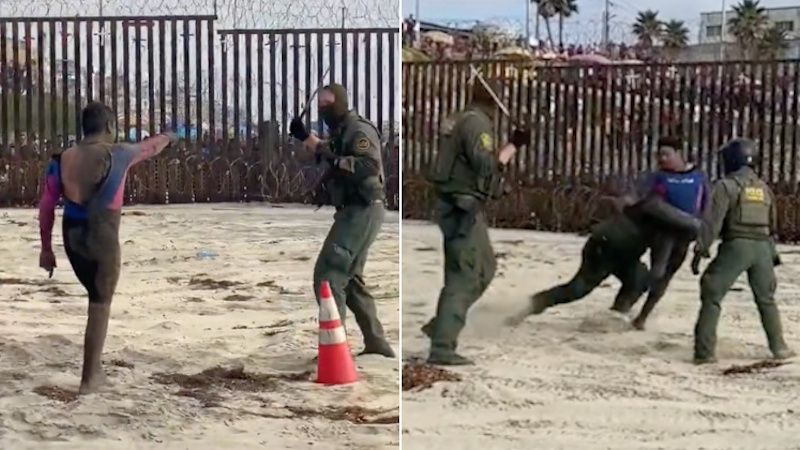 Border Patrol agents engaged suspected human smugglers in a brawl on a beach in Southern California as spectators in Mexico cheered and jeered over the weekend, according to reports.
The shocking incident unfolded at Border Field State Park in San Diego, mere feet from the barrier separating the United States from Mexico at the Pacific Ocean.
Footage originally shared by Rep. Mayra Flores (R-TX) showed a chaotic scene as agents squared off with a combative suspect in a wetsuit.
Another suspect could be seen pinned to the ground by a border agent who had apparently arrived on an ATV.
The suspect repeatedly swung his fists at a border agent defending himself with a baton.
A second agent eventually joined the melee, but both appeared reticent to fully engage the suspect.
Eventually, a third agent ran in and delivered a punishing tackle, slamming the suspect to the ground.
Meanwhile, a large, loud crowd gathered in Tijuana to watch the battle.
"Listen to the chants!" wrote border reporter Auden Cabello. "Once again I'll state the obvious, Mexicans do not like the US. They harbor deep resentment towards everything American except the dollar."
The Washington Examiner requested more information about the episode from Customs and Border Protection (CBP) but was stonewalled.
"We cannot comment on the incident, as there is an ongoing investigation. The Federal Bureau of Investigation is the lead investigating agency," CBP said in an email.
This article was originally published by Newswars.com.
---
Visit BorderHawk.news