News
SHOCK VIDEO: Smuggler Crashes at Border Patrol Checkpoint During High-Speed Chase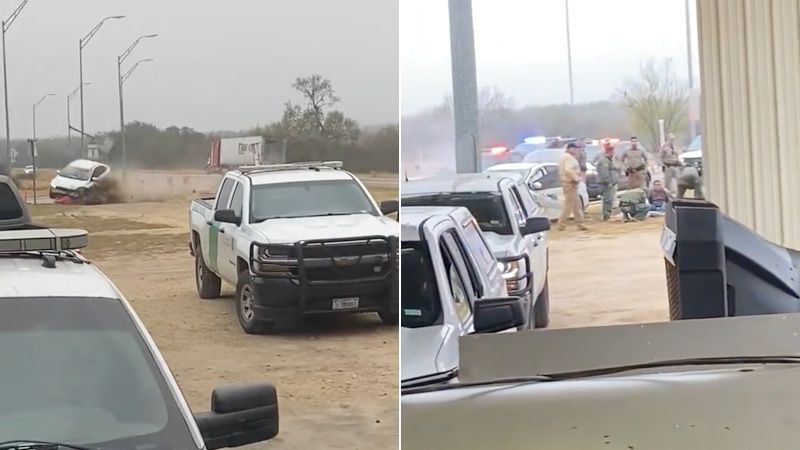 A high-speed chase ended when an alleged smuggler crashed a car on the premises of a Border Patrol checkpoint in South Texas last week, according to reports.
The harrowing incident unfolded on Thursday morning outside Uvalde, a border city where dangerous pursuits have become a near-daily occurrence.
Texas Department of Public Safety (TxDPS) troopers were following a vehicle with at least five people inside, including three illegal aliens, when the driver lost control on a bend in the road.
Footage of the wreck and ensuing apprehensions was shared with Fox News correspondent Bill Melugin by a law enforcement source.
"Video from a federal source shows a suspected human smuggler being chased by TxDPS troopers and losing control & crashing in front of a Border Patrol checkpoint near Uvalde, TX this AM. 3 illegal immigrants, two US citizens in car," Melugin explained.
At the onset of the Biden border crisis, Uvalde Mayor Don McLaughlin Jr. warned that his city was averaging nearly a dozen vehicle pursuits every week.
"We went through this in 2018 and 2019. And the numbers [were] a cakewalk then, compared to what we're seeing now. It's gotten just totally ridiculous," Mayor McLaughlin told Fox News in 2021.
Some pursuits involving human smugglers have ended in catastrophic crashes, like one in September involving a 17-year-old Austin girl who was transporting nine illegal aliens when she slammed into a big rig after running a red light in Uvalde.
The teen and a passenger were killed in the collision.
This article was originally published by InfoWars.com
---
Visit BorderHawk.news