Europe
SHOCK VIDEO: Syrian 'Refugee' Stabs Toddlers, Elderly Victims During Rampage in France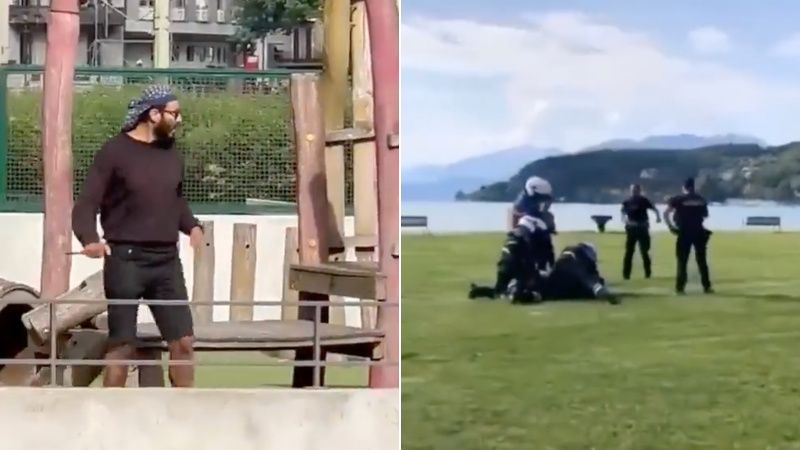 A Syrian 'refugee' was arrested following a brutal stabbing rampage that left at least six victims seriously injured, including four toddlers, at a playground in France, according to reports.
The shocking incident unfolded at around 9:45 a.m. on Thursday in Annecy, a city in the department of Haute-Savoie.
Authorities were alerted about a man wielding a knife who had attacked children and adults near the Pâquier promenade, a beautiful lakeside park in the French Alps.
Videos shot by witnesses have been circulating on social media, although many have already been deleted by Twitter.
WARNING: DISTRESSING CONTENT
The suspect can be seen wearing a keffiyeh-like head scarf while prancing around the park and playground with a large blade in hand.
Some bystanders appear unaware of the dangerous situation playing out very near them, while others can be seen running away from the assailant and shielding their children.
At one point, the attacker is confronted by a Good Samaritan who attempts to take him down using a backpack as a shield.
The suspect was finally swarmed by police and disarmed.
Four children under the age of 4 years old sustained life-threatening injuries and were rushed to medical centers in France and Switzerland.
Additionally, two men over the age of 70 were also injured.
BFMTV reports the status of the wounded children as follows:
The four children injured in this knife attack are still in absolute emergency, said the public prosecutor of Annecy.

Aged between 22 months and 3 years, the little victims were taken care of very quickly. In view of their state of health, the 22-month-old child, of Dutch nationality, was transferred to a hospital in Geneva, Switzerland.

The other three, a cousin and a cousin of 2 and 3 years old and a British girl of 3 years old, were taken care of in Annecy to undergo an operation there before being transferred to the hospital center of Grenoble.
The suspect has been identified as a 32-year-old Syrian national who has lived in Sweden for around 10 years after obtaining refugee status.
In 2022, the man moved to France and applied for asylum there, but his application was rejected on June 4 due to his status in Sweden.
Local shopkeepers say the Syrian had been loitering in the park in Annecy for a few days, appearing 'nervous' and behaving suspiciously.
Predictably, French authorities immediately downplayed any suspicion about 'terrorist motives,' claiming the man was shouting "In the name of Jesus Christ" during the rampage and wearing a cross at the time of his arrest.
Prominent opponents of mass migration across Europe voiced their shock and horror over the tragedy and demanded an end to open borders and lax asylum policies.
"Before, asylum seekers fled to avoid death. Now asylum seekers leave their country to better kill our children," said French politician Eric Zemmour. "I ask you: do not be intimidated in the days to come. You have the right to refuse these francocides."
"Syrian asylum seeker attacks young children with a knife. When do we finally say STOP. Enough is enough. Close our borders!" said Dutch MP Geert Wilders.
"Just learned that the Syrian killer who stabbed a bunch of children in the French alps in Annecy had been granted residency in Sweden by the traitors in charge," said Swedish journalist Henrik Palmgren.
"Not only does this Syrian need to be held responsible but everyone in the pro-migrant EU machine that have enabled this environment too."
An investigation is ongoing.
This article was originally published by InfoWars.com
---
Visit BorderHawk.news