Europe
SHOCK VIDEO: Three Wounded in ANOTHER Stabbing Rampage at Brussels Train Station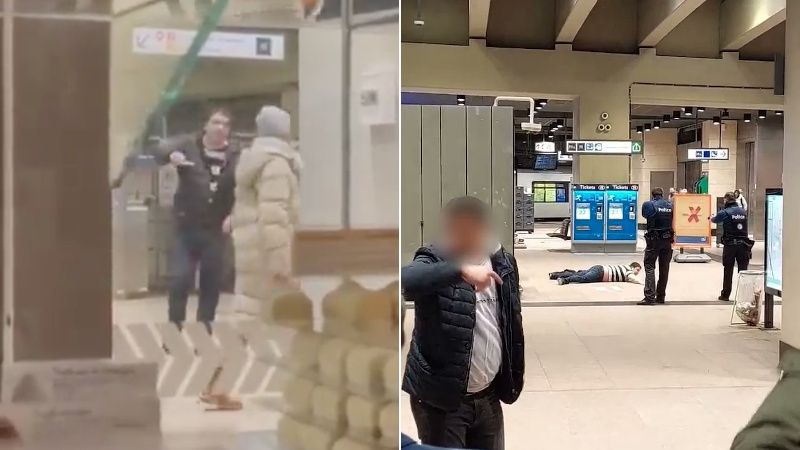 Three people were injured this week when a suspect already known to authorities embarked on the latest stabbing rampage at a train station in Western Europe, according to reports.
The horrifying incident unfolded at around 6 p.m. on Monday evening in Brussels, the capital of Belgium.
A man began attacking people aboard a subway train before rushing out and stabbing more victims inside Schuman metro station, located "a few dozen meters from the headquarters of the European Commission and the European Council," Le Progres reports.
Footage apparently shot from inside a bakery kiosk at the station appears to show the suspect chasing victims while armed with a large blade.
Additional videos purportedly showing the suspect's arrest were shared on social media.
At least three people were injured by the knife-wielding suspect, who even tried to attack a woman pushing a baby carriage, according to witnesses.
The suspect was identified only as a 30-year-old male who was already known to law enforcement.
Claims have been made that witnesses heard the suspect yelling "Allah akbar."
The victims were all hospitalized, one of whom was listed in serious condition.
Authorities were quick to downplay speculation about 'terrorism,' but say they are unclear about the suspect's motive.
The attack is the latest in a slew of bloody frenzies aboard trains and in stations across Western Europe in the past month.
A man was slashed in the face by another traveler at Brussels-Midi station during rush hour just two weeks ago.
Initial reports indicated the stabbing was the result of a 'knife fight' between two combatants, but surveillance footage later revealed the victim had been unaware of looming danger.
"Brussels is becoming increasingly unsafe due to mass immigration," Flemish MP Sam van Rooy recently told Infowars Europe.
"As in other major cities in Western Europe, knife attacks are on the rise. The more diverse a city becomes, the more disturbance and crime there is."
Innocent victims were also injured or killed by blade-wielding assailants on or near trains in France and Germany this month.
This article was originally published by InfoWars Europe.
---
Visit BorderHawk.news