News
Shock Videos: Machete Fight, Cop Bashed in Head During 'Mexican Independence Day' Chaos in Chicago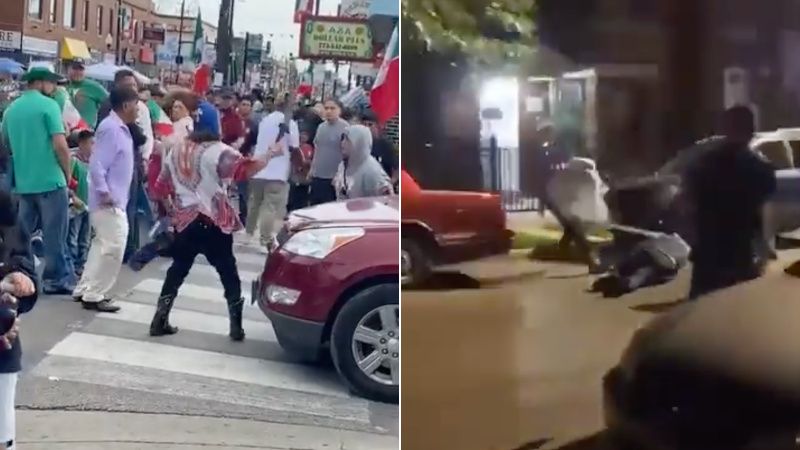 Chaos and violence broke out during 'Mexican Independence Day' celebrations in Chicago over the weekend.
Multiple barbaric attacks were captured on camera as combatants slashed each other with a machete and a visibly injured police officer was bashed over the head with a wooden stick as he lay in the street.
During one incident that unfolded along a parade route in broad daylight, a suspect apparently dressed as a masked luchador can be seen pulling a machete and hacking at men who confront him.
Families with young children watch as men brawl in the street and Chicago cops shout at them to stop.
The large blade changes hands multiple times before a cop with firearm drawn orders it dropped.
It is unclear if any arrests were made.
Earlier that day, during the overnight hours, a police officer nearly lost an ear when a suspect smashed him in the head with a wooden flagpole.
"Officers were patrolling the area as part of the police department's Mexican Independence Day strategy when someone fired a pellet gun at them," CWB Chicago reports, citing Assistant State Attorney Danielle Levin.
"A crowd of people closed in on the cops and began throwing debris at officers as they tried to arrest the person who shot at them, Levin said. During the melee, one of the officers fell to the ground."
WARNING: GRAPHIC CONTENT
As the officer lay on the ground, a suspect identified as 46-year-old Arturo Rodriguez, ran towards him and viciously cracked him across the skull with the rod.
A photograph purportedly showing the officer's ear almost completely severed from his head was shared on social media by citizen reporters.
Rodriguez, who was previously convicted of attempted murder in 1994, was charged with aggravated battery of a peace officer.
Chicago reporter William J. Kelly shared additional footage purportedly captured during the weekend of mayhem in the Windy City.
"In celebration of Mexican Independence Day so far, Chicago police officers have been beaten with large wooden boards, one had his ear nearly sliced off; two teenagers were stabbed; large, permit-less caravan 'parades' disrupted and blocked traffic; there were drag races, a machete-stabbing in Little Village, authorized fireworks, and gunshots fired into City Hall and the historic building was tagged," Kelly wrote.
"I'm just a lowly reporter but it doesn't look like Mayor Brandon Johnson has a clue about how to run Chicago."
This article was originally published by InfoWars.com
---
Please consider donating to support our work.
Visit BorderHawk.news