News
Stunning Scenes From Biden's Border Catastrophe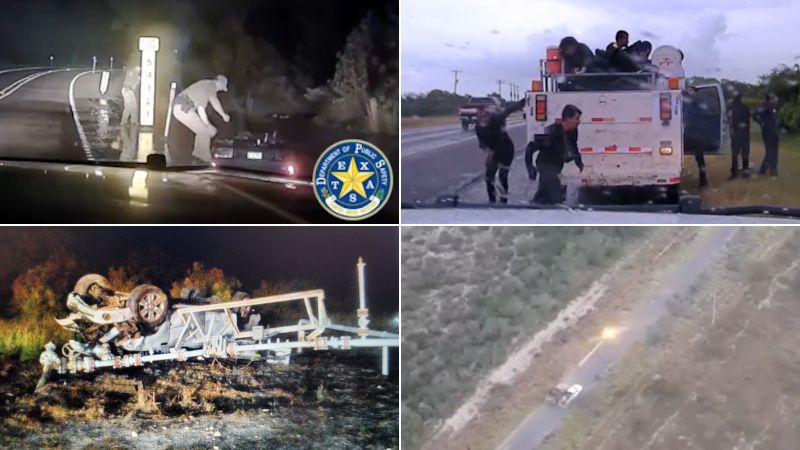 Shocking videos and photos continue to emerge from the U.S. southwest border region as the ongoing migrant invasion engineered by the Biden regime rages on.
More than 2 million illegal aliens were 'encountered' by border authorities in Fiscal Year 2022, which ended on September 30.
However, the number of illegals who entered the country during that period was far higher, as around 600,000 known 'gotaways' were recorded and hundreds of thousands more likely slipped in undetected.
The flood of humanity has brought with it tragedy and harrowing episodes for law enforcement, smugglers, and migrants alike.
On October 13, a human smuggler fleeing Texas Department of Public Safety (TxDPS) troopers flipped a pickup truck into the Llano River in Edwards County.
"Jorge Lopez, a 28-year-old Guatemalan citizen in the United States illegally, was killed at the scene. Four illegal immigrants from Honduras were rescued and taken to a hospital for unspecified injuries," Fox News reported this week.
An illegal alien from Mexico crashed a minivan full of migrants during a pursuit on Route 281 in the Rio Grande Valley.
Passengers can be seen piling out of the vehicle and fleeing into the Texas brush.
Stunning drone footage shows rival gangs exchanging heavy artillery fire just over the border in Mexico.
"Video recovered by TxDPS from a cartel drone shows a recent gun battle between the Gulf & Northeast cartels near Ciudad Miguel Aleman, MX, just across from Roma, TX in the RGV," Fox News correspondent Bill Melugin reported this week.
"Tracers from .50 cal machine guns seen as they fight for control of important smuggling corridor."
TxDPS troopers pulled over a work truck near Kingsville, TX, last week.
"Once the vehicle stopped, a group of illegal immigrants bailed out & fled into the brush. Troopers apprehended 15 immigrants. The driver absconded into the brush," TxDPS spokesman Lt. Chris Olivarez explained following the bust.
A human smuggler rolled a large pickup truck packed with more than a dozen illegal aliens while evading police in Brooks County, TX.
"14 illegal immigrants from [Mexico] & [Guatemala] were inside the vehicle resulting in 2 killed & 12 injured – driver fled," Lt. Olivarez reported on Sunday.
Chaos unfolds constantly along the Texas-Mexico border, as Infowars regularly reports.
This article was originally published by Newswars.
---
Visit BorderHawk.news