News
Suspected Migrant Smuggler Who Caused Horror Crash Revealed as Teen Illegal Alien Facing Deportation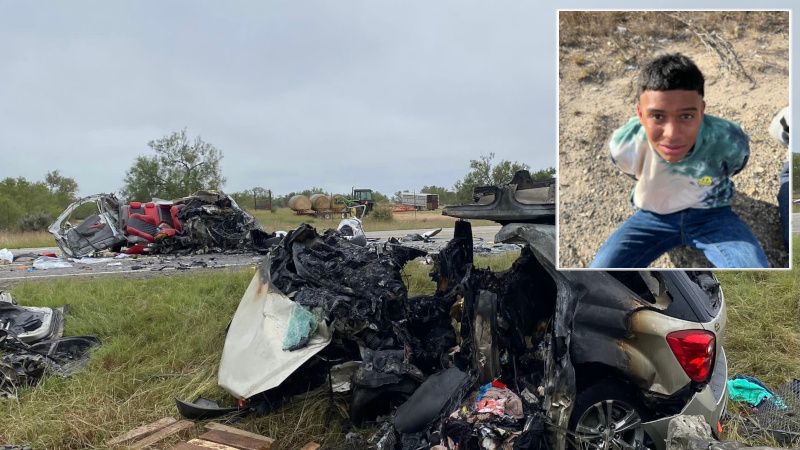 A suspected human smuggler who killed eight people in a catastrophic crash in Texas last week has been identified as a teenage illegal alien who was ordered deported years ago, according to reports.
On Wednesday, two American citizens died when a driver transporting illegal aliens unsuccessfully attempted to pass a big rig while fleeing from authorities on Texas Highway 57 in Zavala County, approximately 60 miles from Eagle Pass.
During the illegal maneuver, the carload of illegal aliens slammed into an SUV traveling in the opposite direction, causing the other vehicle to burst into flames.
Jose and Isabel Lerma, a married couple in their 60s who were traveling from their home in Georgia to visit family in Mexico, were killed in the wreck, along with six people in the smuggling vehicle, including the driver.
Authorities initially identified the driver as a 21-year-old resident of Houston, Texas.
New information revealed over the weekend indicates the driver was actually a 17-year-old citizen of Honduras who was released into the U.S. after entering illegally in 2019 and ordered removed by a judge in the same year.
"Records show Luiz (Luis) Alfredo Mencias-Escobar is from Honduras and crossed into Eagle Pass back in April of 2019, he was released with a Notice to Appear in November where a judge ordered his removal," NewsNation correspondent Ali Bradley reported on Sunday, citing Customs and Border Protection sources.
"Then in April of this year—Mencias-Escobar was stopped in Zavala County, where he was the passenger in a failed human smuggling attempt. Records show that sheriff's deputies turned him over to Border Patrol (per the law)—Despite his standing order for removal, Border Patrol turned him over to HHS who returned him to his mother who lives in Houston."
As Bradley points out, in 2021, Department of Homeland Security Secretary Alejandro Mayorkas issued new guidelines to immigration enforcement agencies effectively de-prioritizing the removal of illegal aliens who entered the U.S. during the Trump administration.
Despite continued and extensive efforts, medical examiners have struggled to positively identify the victims due to the severity of their injuries, some of which were suffered when they reportedly burned alive inside their vehicle.
Chaos unfolds constantly along the U.S.-Mexico border, as Infowars regularly reports.
---
This article was originally published by InfoWars.com
---
Please donate to support our work.
Visit BorderHawk.news