"I'm out on the border. I'm walkin' the line." – The Eagles, On the Border
What does the U.S.-Mexico border look like from the Mexican side?
It depends on where one is.
My younger son and I recently got a chance to view a portion of the border from Mexico.
We had just attended the TPUSA AmericaFest convention in Phoenix, Arizona. (See my previous article: TPUSA's AmericaFest a Great Confab - But What About Immigration?)
After the convention, we departed Phoenix and journeyed to Yuma in the southwest corner of the state.

The next day we went down to San Luis, Arizona, where we crossed the border into San Luis Rio Colorado, Mexico.
It's a land crossing, which is different from a river crossing.
After entering Mexico, we stopped at an Oxxo convenience store and bought some snacks and Mexican Coca-Cola, made with real sugar cane. We hadn't been in Mexico for a while.
From San Luis Rio Colorado, my son drove east-southeast, following Mexican Highway #2 (see map).
We eventually reached the border town of Sonoyta. There we stopped at another Oxxo, purchased more Mexican snacks and Coca-Cola, then departed Mexico by crossing the border into Lukeville, Arizona, U.S.A.
The whole trip took just a few hours, and we didn't have to do any official paperwork for ourselves or our vehicle.  

Highway #2 runs along the border, which we could observe on our left. At a later point, the highway veers away from the border but then returns, getting very close to it.
This stretch of highway is about 120 miles long, all within the Mexican state of Sonora.
Highway #2 ran through no towns between our Point A and Point B. We passed a few restaurants catering to truck drivers.
The scenery was arid, with a flat plain and rocky hills, mesquite, grass, and some saguaro cactus with arms. It was desolate and beautiful.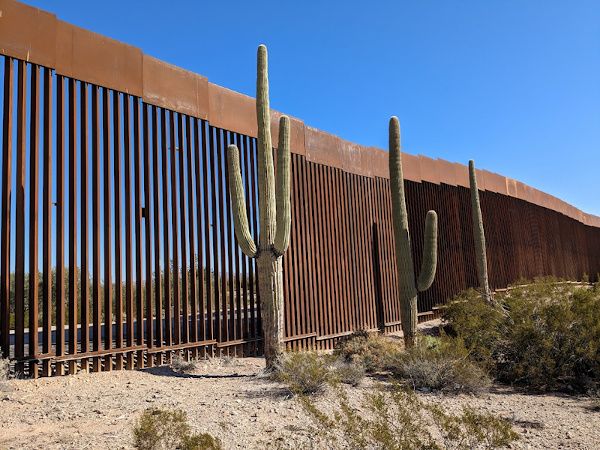 As we drove along, to our left was the wall/fence/barrier/whatever one calls it.
For part of the trip, the wall disappeared from view, blocked by hilly terrain, with the highway veering to the south.

Later, we came back within sight of the wall, as it was right next to the highway.
Some of the fencing was pre-Trump, some of it built by Trump. It's still in good shape.
The border barrier is well-constructed and formidable if you are standing under it looking up.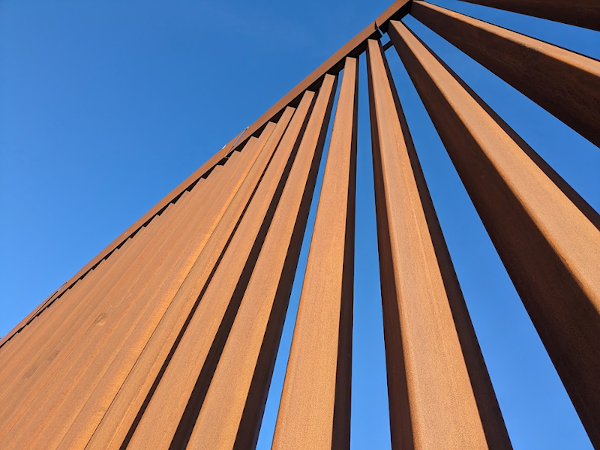 It's some fine engineering and construction. At times, there is a rock hill on the line of the border, and the wall simply climbs the hill in a straight line, with a patrol road beside it.
The border wall actually fits in with the landscape, forming a nice juxtaposition with the natural world.
During the latter part of the trip, we saw saguaro cacti standing in front of the fence. This type of cactus has arms and sometimes a seemingly human form.
We ran across an official boundary marker with one side written in Spanish, the other in English.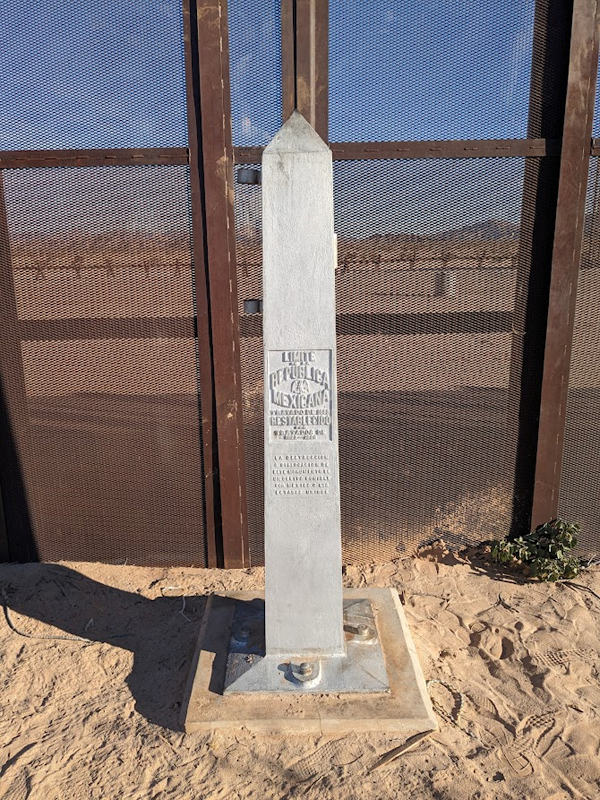 At one point, we saw a Border Patrol vehicle slowly moving along the fence on the other side.
To summarize, we entered Mexico at San Luis Rio Colorado, proceeded east-southeast on Mexican Highway #2 with the wall on our left, and exited at Sonoyta to Lukeville, Arizona, on the U.S. side.
It just took a few hours and we didn't have to do any paperwork.
The wall infrastructure is in very good condition in the region we traveled. It's effective if it's being watched and the law is being enforced.
All we need is a government that has the will to impose our immigration law. That doesn't apply to the current administration.
But the wall is still there, ready to be part of an overall border security plan – if we someday have a government that wants to enforce immigration law.
If it's not too late by then, that is.
---
You can find more of Allan Wall's work at his website.
Visit BorderHawk.news