Europe
WATCH: 1,000 Africans Riot During Cultural Festival in Sweden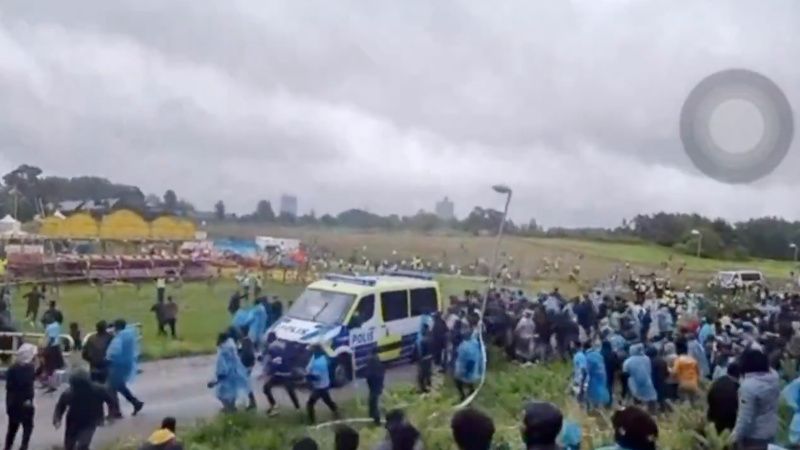 An African cultural festival in Sweden descended into "total chaos" this week when around 1,000 attendees clashed over political differences, according to reports.
At least 55 people were injured, including multiple police officers, amid widespread violence at "Festival Eritrea Scandinavia" in Stockholm on Thursday.
"The festival area was stormed by about a thousand Eritrean counter-protesters. They accuse their countrymen of having a regime-loyal propaganda festival and also raising money for the regime," Samnytt reports.
Combatants armed with sticks and rocks laid siege to the event, turning Järvafältet, a former military training site, into a "war zone."
Cars were set ablaze, officers were pelted with stones and projectiles, and tents were destroyed.
Shocking footage and photos of the battle have been circulating on social media.
Between 100 and 200 suspects were arrested under suspicion of arson, violent rioting, and interfering with police operations.
Swedish authorities were reportedly warned that "busloads" of Eritreans were inbound from the Netherlands to participate in the days-long festival, despite the permit being revoked following Thursday's mayhem.
"The police are expecting new unrest at Järvafältet today and will be on site, this time with greater resources than yesterday," Fria Tider reported on Friday.
Infowars frequently reports on chaos and crime in Sweden brought on by mass migration.
This article was originally published by InfoWars.com
---
Visit BorderHawk.news