News
WATCH: 10 Child Migrants Abandoned at Rio Grande by Human Smugglers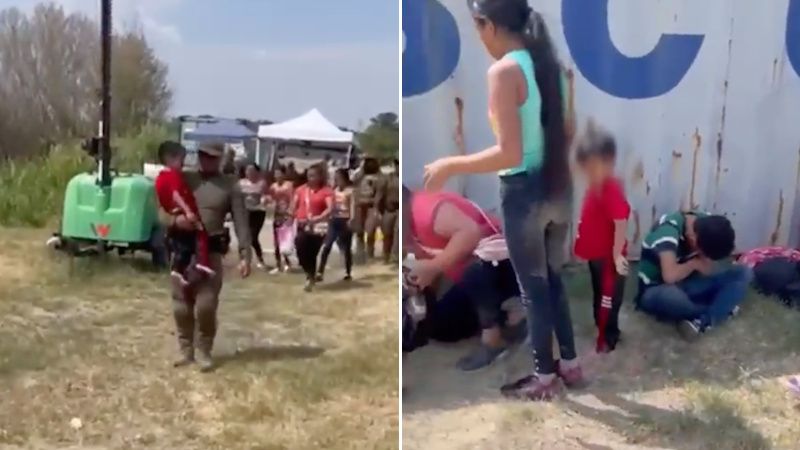 Texas authorities say they rescued a group of unaccompanied minors who were abandoned by human smugglers at the Rio Grande in scorching heat this week.
The shocking incident unfolded on Thursday in Eagle Pass, according to Texas Department of Public Safety (TxDPS) spokesman Lt. Chris Olivarez.
Lt. Olivarez shared footage of children being carried to shelter by TxDPS troopers.
"The TxDPS Brush Team recovered 10 unaccompanied children from Honduras left by a smuggler at the edge of the Rio Grande River in Eagle Pass Shelby Park," Olivarez wrote on social media.
"With temperatures exceeding 115°, smugglers continue to place children in dangerous conditions."
Child migrants are arriving alone at the southern frontier on a daily basis as the Biden border crisis rages on.
Earlier this week, three more Honduran minors between the ages of 6 and 13 years old were stranded at the Rio Grande in Eagle Pass.
On Wednesday, two very young children of unknown nationalities reportedly entered Yuma, Arizona, among a stream of adult illegal aliens.
"Biden policy underlies child dumping. The new post-Title 42 strategy, supposedly super harsh and deterring, completely exempts Unaccompanied children so… of course this is happening," explained Todd Bensman, fellow at the Center for Immigration Studies.
"This ends the day Mexico is made responsible for caring for 'unaccompanied' minors we return. Mexico is an oil state perfectly capable of taking care of these kids."
---
Visit BorderHawk.news