News
WATCH: Chaos at Rio Grande as Hundreds of Illegals Attempt Another Mass Crossing Into Eagle Pass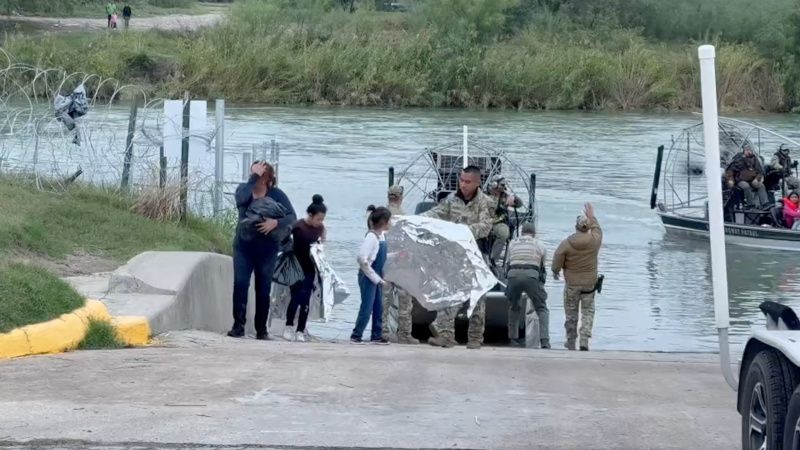 Chaos broke out on the Rio Grande today amid another mass crossing attempt by illegal migrants hoping to reach U.S. soil in Eagle Pass, Texas, according to reports.
Eagle Pass has been an epicenter of the Biden border catastrophe, as InfoWars has frequently reported.
On Wednesday morning, hundreds of illegal aliens swarmed the river, leading to multiple rescues and medical emergencies.
NewsNation correspondent Ali Bradley was on the ground in Eagle Pass with a camera crew.
Migrants reportedly utilized human chains and a rope stretched across the river to aid in their passage, but Texas Department of Public Safety (TxDPS) and supporting agencies were forced to retrieve several people who were swept away by the currents.
After TxDPS eventually removed the rope, a guide on an inflatable tube could be seen floating between the banks, apparently trying to help more illegals get across.
"Once through the river, they face a barrier of concertina wire. Law enforcement is not cutting the wire to let them through, but instead migrants are being told to walk down the river bank to where the wire ends and Border Patrol will receive them. The walk takes about two hours," Bradley reported.
TxDPS Tactical Marine Units also executed multiple river rescues on Tuesday in Eagle Pass.
Eight females, including an unaccompanied 14-year-old girl, were reportedly pulled from the water during a busy day on the Rio Grande.
Last weekend, a 7-year-old girl died and a 17-year-old boy was seriously injured when a "family group" was swept away while illegally crossing the river at Eagle Pass.
The historic surge of illegal aliens across the southern border brought on by the Biden regime has contributed to a massive spike in migrant injuries, deaths, and drownings, as Infowars frequently reports.
---
This article was originally published by InfoWars.com
---
Please donate to support our work.
Visit BorderHawk.news