News
WATCH: Coast Guard Intercepts Boat Packed With Nearly 400 Haitians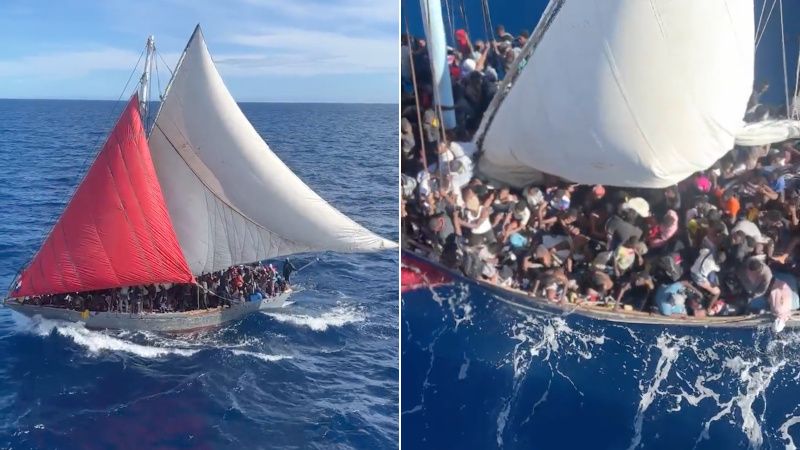 The U.S. Coast Guard (USCG) intercepted a vessel carrying hundreds of migrants in waters near the Bahamas over the weekend, according to reports.
The incident unfolded on Saturday near Cay Sal, an uninhabited island belonging to the Bahamas that lies roughly halfway between Cuba and Florida.
Stunning aerial footage of the packed 50-foot vessel was shared on social media by the USCG.
"USCG Cutter Legare's crew assisted the [Royal Bahamas Defence Force] in stopping an unsafe, overloaded Haitian sailing vessel, Sat," USCGSoutheast wrote on Twitter on Monday.
"There were more than 390 people aboard. USCG crews will transfer the people to Bahamian authorities."
In total, 396 migrants aboard the ship were taken to a processing center on the Bahamian island of Inagua, Bahamas Local reports.
"It was grossly overloaded and very much unsafe," said USCG spokeswoman Nicole Groll.
On Sunday, USCG intercepted a similarly-rustic vessel carrying migrants before it could reach Key West.
More than 8,000 illegal migrants have been interdicted in Florida waters since August, including around 300 on New Year's Day alone.
Weeks ago, Florida Governor Ron DeSantis declared a state of emergency due to the the number of illegal aliens reaching his state by sea.
This article was originally published by InfoWars.com
---
Visit BorderHawk.news