News
Watch: Female Illegal Flirts With Trooper During Arrest for Migrant Smuggling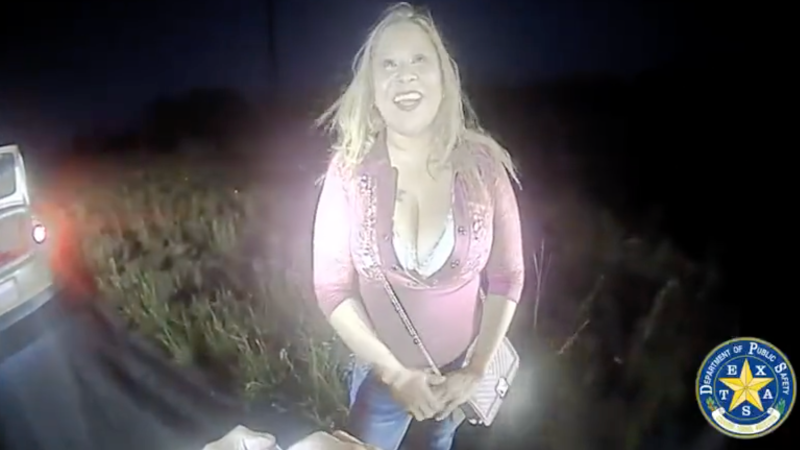 A female illegal alien tried flirting with a police officer after she was pulled over in Texas with other female migrants in her vehicle, authorities say.
The incident unfolded on April 12 in Jim Hogg County in South Texas.
A Texas Department of Public Safety (TxDPS) trooper pulled over a sedan with three women inside.
While questioning the driver, the woman began flirting with the trooper, as bodycam footage shows.
"I'm looking at your eyes," the woman says while giggling.
"Why?" the trooper asks.
"Because you look pretty handsome," she replies.
Two female passengers were found to be illegal aliens from Guatemala who had been picked up from a stash house in Mission, TX.
They were carrying fraudulent Texas driver's licenses they intended to use to get past a U.S. Border Patrol checkpoint in Falfurrias, according TxDPS spokesman Lt. Chris Olivarez.
It was also determined the driver is an illegal alien from Mexico who resides in Edinburg, TX.
The driver was arrested under suspicion of human smuggling and the other women were turned over to Border Patrol.
The episode comes amid recent reports that cartels are enslaving female illegal aliens who can't afford steep smuggling fees and opt instead to work in U.S. strip clubs controlled by international criminal networks.
At least 10% percent of dancers at strip clubs in U.S. border states are female migrants paying off debts to cartels, according to information obtained by border expert Todd Bensman of the Center for Immigration Studies.
This article was originally published by InfoWars.com
---
Visit BorderHawk.news