News
WATCH: Mexican Smuggler Fights TxDPS Trooper During Pursuit, Bailout at Rio Grande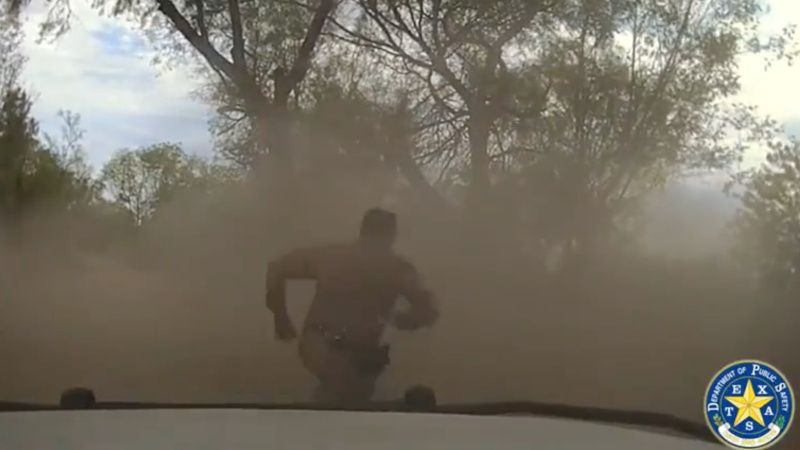 A Mexican illegal alien is facing a slew of charges following a human smuggling bust that led to a high-speed pursuit, bailout, and brawl at the Rio Grande, authorities say.
The incident unfolded on Tuesday in Hidalgo County, Texas.
A Texas Department of Public Safety (TxDPS) trooper attempted to pull over a suspicious pickup truck when the driver led him on a chase through residential neighborhoods.
TxDPS has released footage from dash and body-worn cameras.
"TxDPS pursued a human smuggler in Sullivan City RGV who attempted to flee on foot towards Mexico. Troopers & TX Military arrested the smuggler at the edge of the Rio Grande after a brief struggle. During the struggle, the smuggler kicked the trooper in the stomach," TxDPS spokesman Lt. Chris Olivarez explained on social media.
"Jose Alvarez-Villa, an illegal immigrant from Mexico, faces state criminal charges for smuggling, evading, & assault on a public servant. 2 illegal immigrants made it back to Mexico & 1 illegal immigrant was referred to USBP."
Another illegal alien from Mexico was arrested after allegedly assaulting Border Patrol agents in Hidalgo County earlier this month.
Bryan De La Fuente-Aparicio, 17, was being held at a processing center in Donna when he attacked other detainees and border agents on August 16, authorities say.
"Aparicio was throwing things at other detainees when two Border Patrol agents attempted to calm him down, the complaint states. Aparicio reacted by putting one of the agents in a chokehold. During the struggle, Aparicio bit the other agent on the right hand," KRGV reports, citing Hidalgo County jail records.
Texas Rangers arrested Aparicio after he reportedly confessed to the assault in an interview.
This article was originally published by InfoWars.com
---
Visit BorderHawk.news