Europe
WATCH: Migrant Brawl at Beach in Germany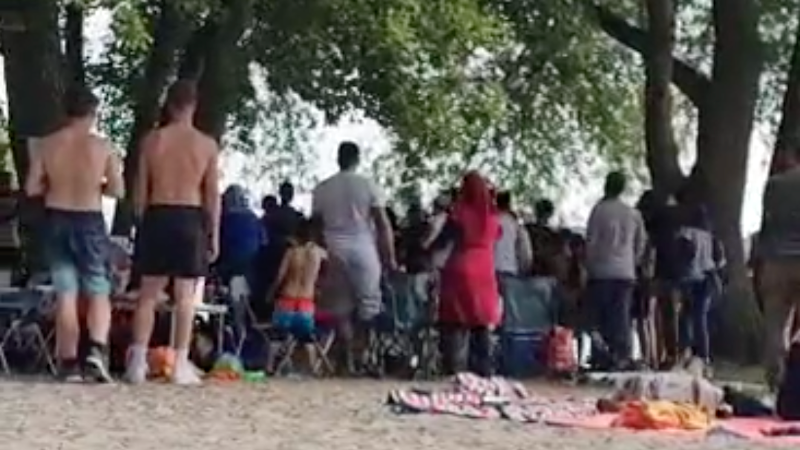 Multiple people were seriously injured when groups of 'Afro-Arab asylum seekers' engaged in a vicious brawl at a lakeside beach in Germany this week, according to reports.
The disturbing incident unfolded on Sunday in Wünsdorf, a town near Berlin in the state of Brandenburg.
A fight broke out at swimming area popular with families and young people.
Combatants reportedly used shisha pipes as weapons, whipping and striking each other with hoses and glass attachments.
Footage of part of the melee was shared on social media by Junge Alternative Brandenburg, a chapter of the Alternative for Germany (AfD) party's youth wing.
"Fight between Muslims in the middle of Brandenburg," the group wrote on Twitter.
A large police contingent was dispatched to the scene, and at least one injured person suffered 'life-threatening injuries' and had to be resuscitated, a witness told Heimat Kurier.
"As Junge Alternative, we say very clearly that only remigration helps against these scenarios," Junge Alternative said in a statement.
"We will see such images all over Germany this summer. Unfortunately, the incident in Wünsdorf was only the beginning. We need safe borders, safe cities and safe outdoor pools."
The violent episode is just one of many that have already taken place in Germany at the onset the summer bathing season.
Last week, police were called to an aquatic center in Berlin after a brawl broke out between rival groups of 'teens.'
The week before, a young mother was brutally attacked in front of her children by a mob of 'youths' wreaking havoc at a swimming pool in Enkenbach-Alsenborn.
This article was originally published by InfoWars.com
---
Visit BorderHawk.news