News
WATCH: Migrant Smuggler Leads Texas Troopers on High-Speed Chase in Stolen Big Rig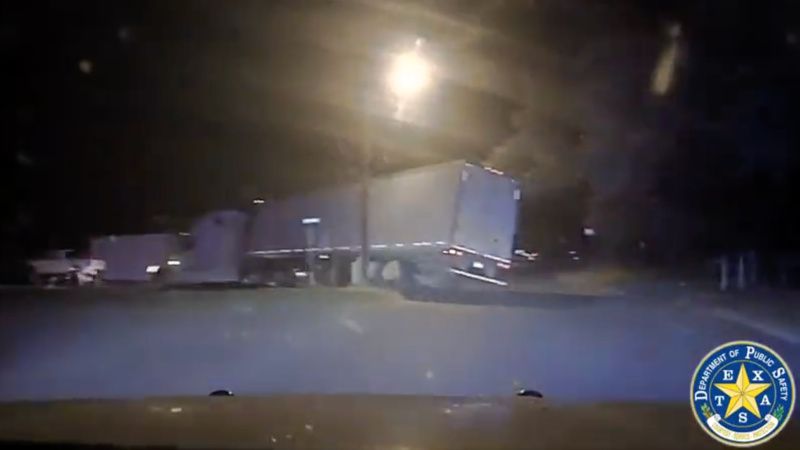 Texas police were led on a dangerous high-speed pursuit by a human smuggler transporting nearly 20 illegal aliens in a stolen big rig over the weekend, authorities say.
The harrowing incident unfolded on Saturday night in La Salle County, located in South Texas near the border of Mexico.
Texas Department of Public Safety (TxDPS) troopers attempted to pull over the hijacked vehicle on I-35 but the driver refused to stop, instead racing down the highway and then residential streets before bailing out and escaping on foot.
"The suspect drove through neighborhoods, striking stop signs & an electrical post," TxDPS spokesman Lt. Chris Olivarez explained on social media on Monday.
"18 illegal immigrants were found crammed inside the cabin of the truck. The suspect remains at large."
At one point, the truck struck a tire deflation device laid out by Frio County Sheriff's Deputies, but the smuggler charged onward.
At the conclusion of the chase, the illegal aliens were turned over to Border Patrol.
Lt. Olivarez continues to share videos and information from law enforcement actions taken during Operation Lone Star, which was launched by Texas in 2021 in an effort to crack down the on catastrophic border crisis invited by the Biden regime.
During one smuggling bust on June 13, two children under the age of 12 were found among nine illegal aliens packed inside an SUV bound for San Antonio.
Another high-speed chase on June 13 ended when the driver slammed into a ranch fence and absconded on foot.
Florida Highway Patrol officers aided TxDPS troopers in tracking down the driver and two illegal aliens in the brush.
Chaos unfolds constantly along the U.S.-Mexico border, as Infowars regularly reports.
This article was originally published by InfoWars.com
---
Visit BorderHawk.news