News
WATCH: Shock Footage Captures Overwhelmed Border Officials, Ongoing Invasion of America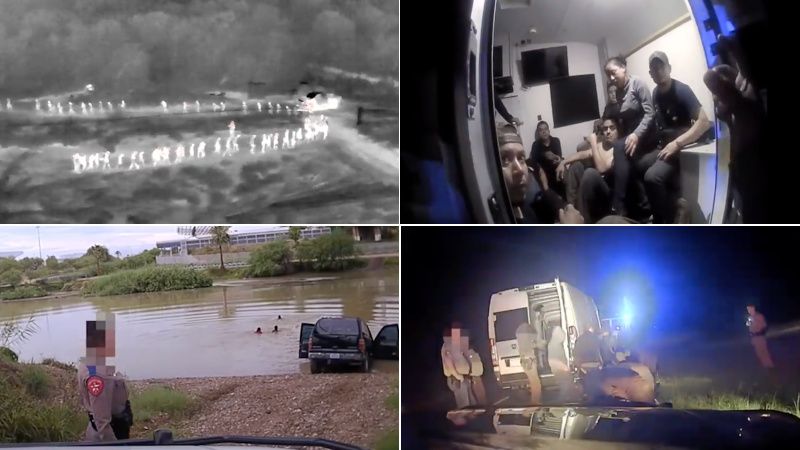 Border authorities are recording the most illegal migration traffic in United States history as shocking videos continue to emerge from the southwest frontier, according to reports.
Roughly 8,000 migrants are being encountered at the southern border every day, the Washington Free Beacon reported this week after reviewing internal documents from the Department of Homeland Security (DHS).
"We cannot process the numbers flooding our borders and the administration's solution is scrambling for ways to let people in faster," a top DHS official told the Free Beacon.
A slew of videos shot this week by law enforcement and reporters in South Texas showcase utter mayhem in the region.
In Roma, smugglers led Texas Department of Public Safety (TxDPS) troopers on a high-speed chase that ended when they crashed their SUV into the Rio Grande and swam back to Mexico.
In Kinney County, TxDPS troopers were surprised to find 16 illegal aliens hiding in the back of a cargo van they pulled over on Highway 90.
In La Pryor, a smuggler told TxDPS troopers he didn't have keys to open the RV he was towing.
When officers gained entry, they discovered 14 illegal migrants inside.
In Uvalde, TxDPS troopers pursued a vehicle carrying illegals at speeds topping 100mph before the driver and passengers bailed out on the side of the road and were chased down and arrested.
A short time later, troopers in Uvalde discovered 11 Honduran men hiding in dense brush near private ranches, some wearing camouflage.
In Eagle Pass, more than 500 migrants were observed illegally entering the U.S. under cover of darkness in a span of just two hours.
This article was originally published by Newswars.com.
---
Visit BorderHawk.news