News
WATCH: Texas Police Bust Dump Truck Hauling 60 Illegals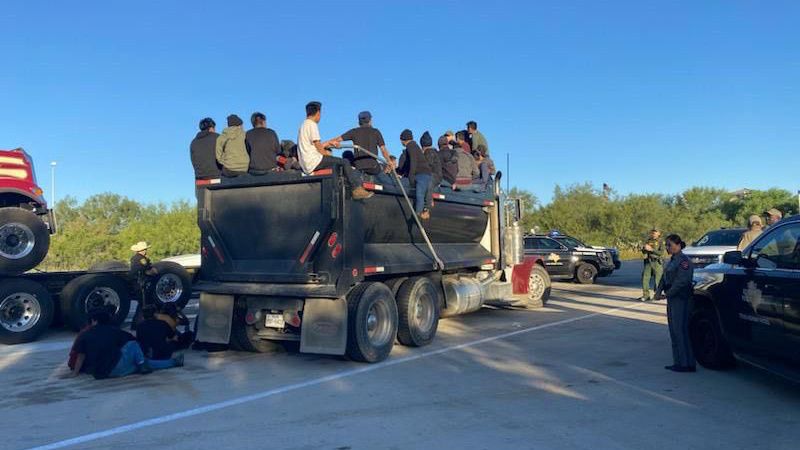 Dozens of illegal aliens were found hiding inside a dump truck pulled over by police in Texas on Tuesday, authorities say.
The suspicious vehicle was stopped on I-35 by Texas Department of Public Safety (TxDPS) troopers in Cotulla, a small city in La Salle County.
Video footage and photographs of the bust were published on social media by Lt. Chris Olivarez, spokesman for TxDPS in the South Texas Region.
"The driver attempted to smuggle 60+ illegal immigrants concealed inside a dump truck," Lt. Olivarez wrote.
"Driver arrested & illegal immigrants turned over to [U.S. Border Patrol] – more details to come."
Olivarez shared additional images showing other ways illegal aliens and smugglers brazenly enter Texas via Mexico.
"Camera technology is vital to border security. TxDPS utilizes cameras to monitor & gather intel along the TX/MX border," he explained.
"From groups of illegal immigrants avoiding capture to those who use ladders to scale barriers are just some of the activities that the public is not aware of."
Nearly 2.4 million illegal aliens were 'encountered' at the southwest border in Fiscal Year 2022, which ended on September 30.
However, the number of illegals who entered the country during that period was far higher, as around 600,000 known 'gotaways' were recorded and hundreds of thousands more likely slipped in undetected.
This article was originally published by Newswars.com.
---
Visit BorderHawk.news