News
WATCH: Texas Police Execute PIT Maneuver to End High-Speed Pursuit of Teen Smugglers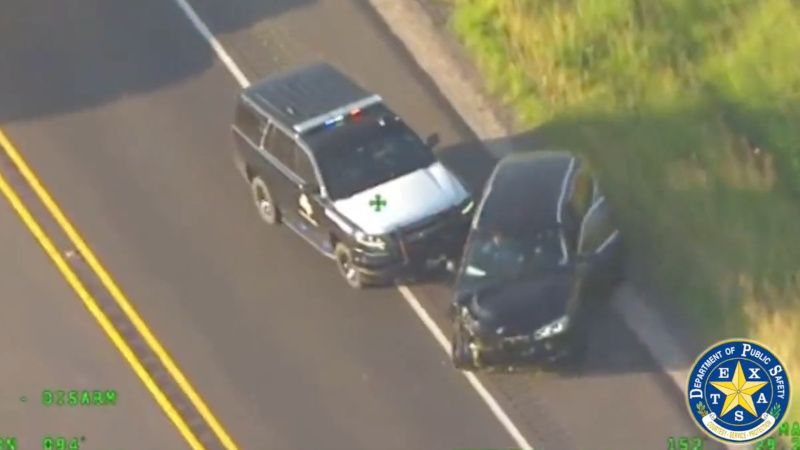 A pursuit on a Texas highway was brought to an abrupt end when officers executed a high-stakes 'PIT maneuver' to stop a vehicle operated by suspected human smugglers transporting illegal aliens, according to authorities.
The harrowing incident unfolded on Tuesday in Maverick County, located in South Texas along the border of Mexico.
Texas Department of Public Safety (TxDPS) troopers attempted to stop a suspicious BMW SUV on US-277 but the driver sped away, triggering a dangerous chase that put many other motorists at risk.
Footage of the pursuit shot by dash cams and from the sky was posted on social media by TxDPS spokesman Lt. Chris Olivarez.
"Two 19-year-old smugglers from Dallas evaded TxDPS resulting in a high-speed chase in Maverick County. DPS Aircraft provided aerial support," Lt. Olivarez explained.
"The pursuit came to a stop after the Trooper performed a PIT maneuver. Both were arrested & face criminal charges for smuggling, evading, & unlawful carrying of a weapon after a 9mm handgun was found. 3 illegal immigrants were apprehended."
The driver can be seen swerving across lanes of oncoming traffic, often speeding along off-road terrain.
On multiple occasions, the vehicle comes to a stop so passengers can bail out and flee on foot.
Eventually, the BMW hits a spike strip, causing tires to burst.
As the vehicle slows, a TxDPS trooper uses his own SUV to employ a 'precision immobilization technique,' otherwise known as a PIT maneuver.
The BMW is bumped from the rear, causing it to spin sideways and come to a stop.
The suspects were taken into custody and their weapon seized.
This article was originally published by InfoWars.com
---
Visit BorderHawk.news