News
WATCH: Texas Police Use PIT Maneuver to Stop Human Smuggler During High-Speed Pursuit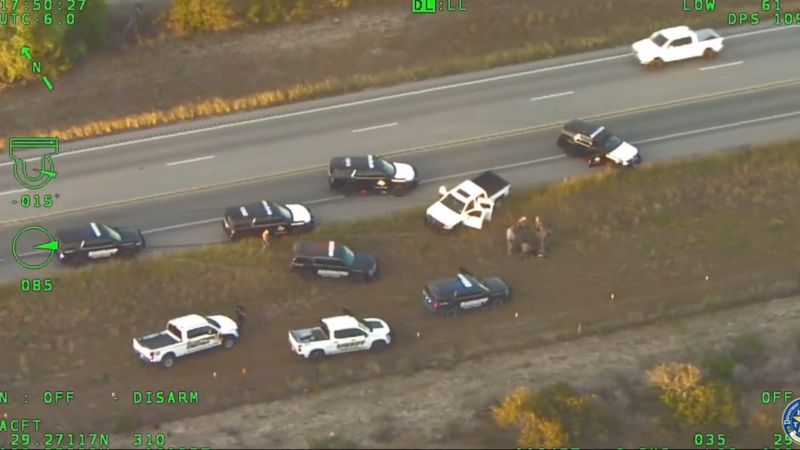 Authorities neutralized a suspected human smuggler's vehicle using a PIT maneuver after it nearly struck a school bus during a high-speed chase and bailout in Texas over the weekend.
The harrowing episode unfolded on Friday in Kinney County just miles from the southern border.
A Texas Department of Public Safety (TxDPS) trooper pulled over a suspicious pickup truck on US-90, but as officers from multiple agencies surrounded the vehicle, the driver took off.
Aerial footage released by TxDPS shows two illegal aliens bailing out of the truck as it speeds away.
"The driver, Oscar Osorio, from Greenville, evaded reaching speeds of 90 mph. At one point during the pursuit, Osorio pulled over and allowed three more occupants to bail out," TxDPS explained in a statement.
After Osorio raced past a school bus using the highway shoulder, a TxDPS trooper used his SUV to execute a 'precision immobilization technique,' otherwise known as a PIT maneuver.
Osorio told authorities he was promised $1,000 per illegal alien he smuggled.
Two illegal aliens found inside the vehicle were taken into custody, but it is unclear what became of the rest.
TxDPS released video from a similar pursuit in Kinney County that occurred days earlier.
A female driver from Austin topped 100 miles per hour while fleeing from troopers on US-90.
After she crashed into a ditch, seven illegal aliens were found in her vehicle, including two in the truck bed.
---
This article was originally published by InfoWars.com
---
Please consider donating to support our work.
Visit BorderHawk.news