News
WATCH: Texas Troopers Chase Smugglers, Illegals in Slew of Dangerous Pursuits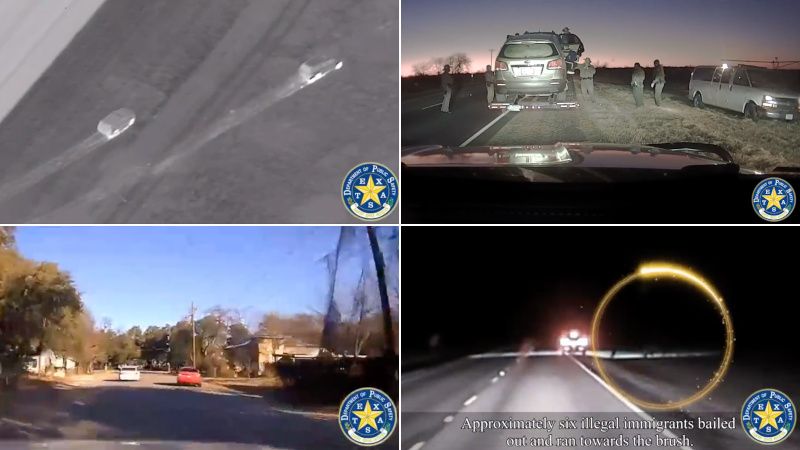 Human smugglers continue to lead law enforcement on dangerous vehicle chases in Texas as the Biden border crisis rages out of control.
Texas Department of Public Safety (TxDPS) troopers are involved in pursuits on a daily basis as brazen drivers and illegal aliens attempt to evade apprehension.
TxDPS spokesman Lt. Chris Olivarez has shared footage of recent harrowing interceptions on social media nearly every day in the past week.
January 18: Troopers pulled over a truck hauling three cars on a trailer in Uvalde County.
Fifteen illegal aliens were found hiding inside the vehicles.
January 19: A 16-year-old driver led a TxDPS trooper on a high-speed pursuit in Val Verde County.
"During the chase, 3 illegal immigrants bailed out. The driver & [passenger], of Del Rio, were arrested for smuggling," Lt. Olivarez explained.
Border Patrol agents apprehended the illegal aliens.
January 20: A suspect who flew from Pittsburgh, PA, to San Antonio, TX, was caught in Maverick County driving a rented SUV with six illegal aliens inside.
January 21: Border Patrol agents and TxDPS troopers "apprehended numerous groups of illegal immigrants actively avoiding capture, deterred smuggling attempts, encountered drone incursions from MX, & recovered make-shift ladders used to scale the wall," Olivarez reported.
January 23: A smuggler driving an SUV packed with 15 illegal aliens flew off U.S. Highway 281 and plowed through fence before passengers bailed out on a private ranch in Hidalgo County.
January 24: A Piru Bloods gang member from Houston was arrested for transporting illegal aliens after leading TxDPS troopers on a dangerous pursuit in Uvalde County.
"During the chase the driver ran red lights & drove on the wrong side while evading. The vehicle was spiked & brought to a stop. Six illegal immigrants were recovered – 3 were in the trunk," Olivarez explained.
January 25: A female driver from Austin was caught smuggling 10 illegal aliens in a Penske cargo van in Val Verde County.
Chaos unfolds constantly along the Texas-Mexico border.
This article was originally published by InfoWars.com
---
Visit BorderHawk.news