News
WATCH: US Soldier Opens Gate for Mob of Illegals on Private Texas Property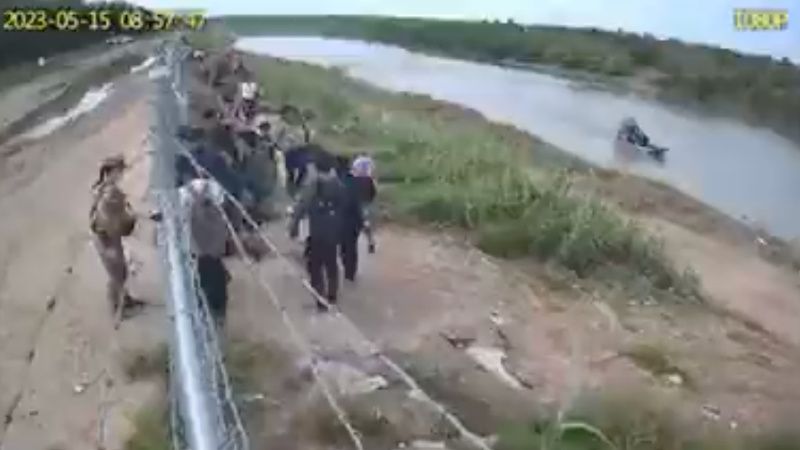 An American soldier opened a fence gate to allow a large group of illegal migrants to enter private property in Texas this week, according to reports.
The incident unfolded in Eagle Pass just before 9 a.m. on Monday morning, time stamping on surveillance footage indicates.
The video was provided to Fox News correspondent Bill Melugin who published it on social media along with information he received about the female soldier from the Texas National Guard.
"Security video from a contact in Eagle Pass, TX shows a large group of migrants crossing illegally onto private property this morning. Crossings have been down big in Texas last few days, but are expected to rise again as cartels/smugglers figure out the post T42 border," Melugin wrote.
"I asked the Texas National Guard if this is one of their soldiers who opens the gate for the group of migrants. They tell me she is NOT a TX soldier & is not TX ARNG. I'm told she is a Title 10 soldier from the Missouri ARNG under orders from the federal gov & working w/ BP."
Twitter users wondered if what the soldier did was legal and whether or not she had authority to do so on private land.
"[S]he was mobilized by the Federal Government to assist the Border Patrol… presumably in Texas. And yes, as much as people dislike it, what she's doing is 'legal,'" explained a former federal immigration official.
"[P]er the previously cited code, Agents wouldn't be 'trespassing'; I can see the river, so it's within 25 miles, and need neither, though Agents like to have the latter, and the aliens are surrendering to what they view as a U.S. Gov't authority figure having already entered."
Illegal border crossings are reportedly down dramatically since the expiration of Title 42 on Thursday, however, officials expect a renewed surge in the coming days.
"Illegal crossings in Texas have fallen off a cliff in the last 48 hours since T42 expiration. After a peak of 3,300 on 5/8 in the RGV earlier this week – under 500 in RGV last 24 hours. El Paso big drop too," Melugin reported.
"CBP contacts tell me they do not expect this lull to last. They expect numbers to crank back up again – but not to the record setting levels we saw this week of 10,000+ per day."
Melugin cites a handful of factors contributing to the sudden decline, including Texas blocking illegal entries and more migrants using official ports of entry.
This article was originally published by InfoWars.com
---
Visit BorderHawk.news